A Live, 8-Week Program To Elevate Your Brand,  Grow Your Visibility, & Create Consistent Income in 60 days.
Hi, I'm Julie Solomon…
Today I'm a brand expert, online business coach, best-selling author, speaker, and 7+ figure business owner. But just nine years ago… I had no idea this is where life would take me. It all started with a blog I created back in 2014.
I truly never imagined my journey from publicist to blogger would eventually take me where it has—and I owe it all to building a personal brand on a clear, strategic foundation—and in this program I'm going to walk you step-by-step through my personal proven system for elevating your brand, growing your visibility, and generating consistent income.
We're talking about the precise foundations I've used both with clients and my own brand to build a business from the ground up that's generated 8 figures in revenue, secured well-paid speaking engagements, birthed a top-rated podcast, garnered a book deal, and so much more (and without all the mistakes or missteps, so you won't have to fumble the ball with your own brand!).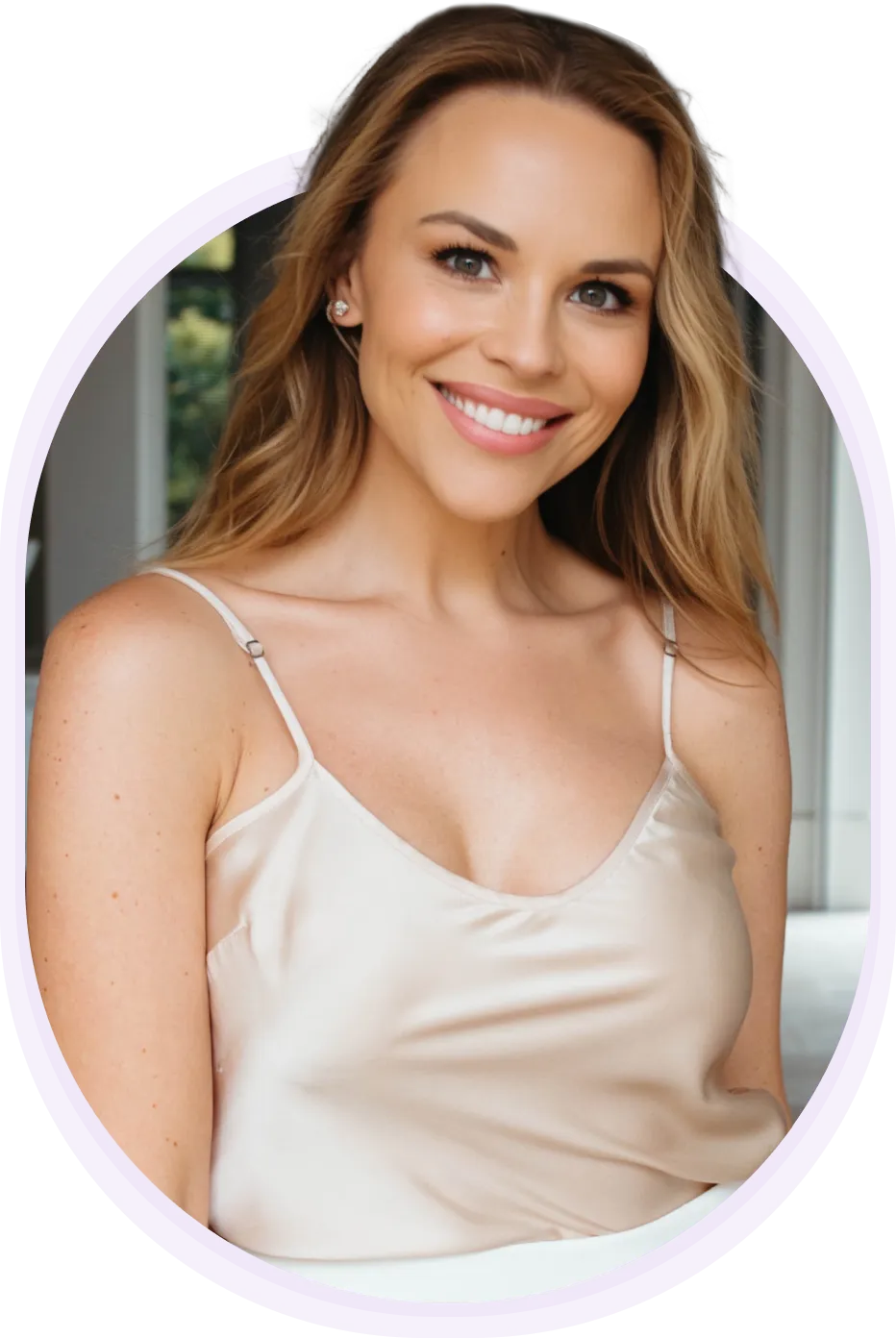 This is the exact playbook to go from 0 to 250K (dollars, or followers… or both!).
This is how you take your authentic ideas, personality, and gifts and transform them into a brand that supports you and your family today (and well into the future as it grows beyond your wildest dreams).
So instead of trying to mimic other successful brands while being caught up in the day-to-day of attempting to manage your own—It's time to get access to the insider play-by-play on how to actually build a brand that's not only aligned with your vision, but also lines your bank account with cash for the lifestyle you really want (and practically grows itself).
Because behind-the-scenes of every successful brand that grows to 7-figures and beyond is a foundational strategy that you can't piece together from the outside peeking in.
And that's precisely the custom strategy you'll map out for yourself in this program.
"The month before working with Julie, I made $1,100. Just one month after working with her to get clear on my offer and who I'm speaking to, I made $13,400. Julie's potent guidance is what got me there. I am so excited to not only be back where I was 1.5 years ago, but to keep this going."
Mother-Daughter Relationship Coach
The Brand Accelerator is a proven system for growth, not just 'what worked for me.'
I've invested years of research and in-person time in the trenches with entrepreneurs just like you:
Content creators with anywhere from 0 to 50K followers, who struggled to turn their online brand into their main source of income (no matter how many Reels they posted, pitches they sent, or hashtags-per-posts they maxed out).
Coaches who—even though they had invested in their brand before—had YET to experience an online program that successfully led them to cultivating a purpose-driven game plan to reach their goals.
Entrepreneurs who, despite starting at the SAME time *she* did, consistently saw other creators who seemed to be achieving momentum and growth … while they felt stagnant.
And, through working hands-on with each of them, we turned it all around!
The Result?
They were able to transform their online brand into their main source of income, cultivate a purpose-driven game plan to reach their goals, and achieve real momentum and growth (in followers and revenue).
I developed a tangible, proven framework for how YOU can experience all-new levels of success (just like they did).
Inside of The Brand Accelerator, you'll get an easy-to-follow, crystal-clear blueprint so you can find your way out of overwhelm and uncertainty and tap into your elevated brand identity, consistent income, and long-term financial freedom.
01
Clarify your brand strategy from top to bottom with my proven step-by-step method inside our private group—including all the foundational pieces that make unlimited growth possible inevitable! Get crystal clear on your audience, messaging, visuals, and more – plus, we'll be doing it all together.
02
Create the time and space for creative, playful, and fun content creation! You'll develop a customized time management and work-life balance strategy for long-term sustainable success that aligns with your goals. And actually enjoy it. Kiss that overwhelm and uncertainty goodbye!
03
Grow exponentially with marketing and monetization plans that are customized to you and what YOU want! You'll walk away with the confidence of knowing exactly what content to put out there to achieve your goals and watch your creativity turn into more cash & conversions!
What You Get
Here's what you'll get inside The Brand Accelerator:
By The End of Our 8 Weeks Together,  You Will…
Step into Confidence and Mindset Mastery:
Overcome imposter syndrome and self-doubt, fostering a resilient and positive mindset that empowers you to navigate challenges and seize opportunities.
Craft a Compelling Personal Brand:
Create a compelling brand narrative where you share your journey authentically with your audience and establish yourself as an authority.

Differentiate with Your Unique Value Proposition:
Establish a strong brand foundation by understanding the needs and desires of your target audience and creating a value proposition that sets you apart from the sea of noise.
Strategize and Create Engaging Content:
Organize your content for consistency and effectiveness while generating a reliable income stream by creating content that resonates with your audience.

Accelerate Your Growth & Visibility on Social Media:
Enhance your presence on social media by cultivating an engaged community and engaging your followers across the platforms that work best for you.
Diversify Your Streams of Income:
Set achievable growth goals, identify monetization avenues tailored to your niche, and implement strategies to increase revenue.
Master Time Management & Work-Life Balance:
Prioritize tasks, streamline productivity, and overcome procrastination to stay focused on your brand's growth journey by setting routines, time management techniques, and work-life balance practices.

Sustain and Evolve Your Brand:
Maintain momentum and growth after the program ends, and ensure your brand evolves and thrives over time as circumstances and opportunities change.
"Julie has the experience and knowledge. Walking through her program with her, as she lays it out, will give you new insights into your branding and messaging."

Online Membership Creator, Founder of Cowgirls Over Coffee
Want a full list of all the goodness inside?
Here's everything you'll get inside The Brand Accelerator…

The Brand Accelerator Curriculum
($2,999 value)
Learn the precise step-by-step system for creating a brand that will inevitably grow in followers, impact, and revenue for the long-haul.

Lifetime Access to Course + All Future Updates
($1,999 value)
Get access forever – including to all updates that may come in the future at no additional cost – so you can review modules as you need to, beyond our 8 weeks together.

Videos, Worksheets, Templates, Swipe-Files and Guides
($499 value)
Have the exact step by step roadmap you need to confidently achieve your goals and enhance productivity. These resources provide organized tasks, design templates, communication swipe-files, and expert advice, empowering you to navigate challenges and optimize efficiency throughout your journey. Streamline your path to success and unlock your potential with this comprehensive toolkit.
PLUS, My "Get-Unstuck" Bonus Vault
Once we've established your foundation, it's time for me to make a pinky promise with you.
So, inside The Brand Accelerator, I want to make sure you can get your hands on the tools that will help you overcome any old excuses that may have tripped you up in the past.
Pay in Full Only
Bonus 01
List-Building 101 with Amy Porterfield: How to Kickstart Your Email List Like a Pro
($299 Value)
Learn the magic of List-Building, including what it can do for your business, why the best time to start is NOW and why it sometimes can feel so overwhelming to get started.
Join Amy Porterfield as she dives into what it takes to get started (from software to lead magnets to everything in between). In this training, you'll gain a foundational understanding of List-Building and learn some strategies that are working right now to get people to start paying attention and on your list!
Pay in Full Only
Bonus 02
LIVE Soulful Monetization Mastery with Jessica Zweig
($599 Value)
Embark on a transformative live journey with renowned speaker and entrepreneur, Jessica Zweig, to unlock your authentic mission and manifest a life of limitless potential.
Dive deep into the secrets of abundance within you, confidently set your worth, align mind and spirit for success, amplify your brand's impact, and connect money-making with soul purpose. Join us for a LIVE session on Soulful Monetization Mastery and open the door to a future filled with prosperity and purpose when you pay in full.
Bonus 03
Course Launch Starter Kit: The Must-Know Strategies, Systems and Swipe Files Needed to Create a Wildly Successful Course
($299 Value)
Along with exclusive behind-the-scenes access to the exact backend files, templates, and processes employed by Julie herself to proficiently organize, plan, and execute course launches. Julie's systems cover every pivotal facet of course creation, offering a fool proof resource to facilitate your long-awaited course launch. With this comprehensive toolkit and ready-to-use swipe files, you're primed to confidently embark on your personal journey towards realizing a thriving online course venture.
Bonus 04
The Student-Only Private Community Group
($199 Value)
Receive 10 weeks of access to incredible support from like-minded peers who really "get it" and provide invaluable feedback, perspective, and encouragement. Engage in valuable discussions, receive priceless feedback, gain new perspectives, and be inspired by the encouragement that this community offers during the live phase of the program.
Bonus 05
8 LIVE Coaching Calls with Julie
($299 Value)
Let's plan for the future and maintain a consistent action plan! Beyond lifetime access to the course, you also get 8 weeks of live coaching calls with Julie. Changes and challenges come for all of us! This is why you'll get my eyes, ears, brain, and hands on your brand – your why, your message, your genius, and your strategy. Engage with me or listen to other members' questions. Don't just survive – thrive over time with this bonus!
"There was a lot of depth to this course that I wasn't expecting, I have used other programs in the past, but found this material made me dig deeper and introduced me to some holes that were missing in my marketing plan and the way I communicated with my audience."
Beauty Industry Educator & Salon Owner
Here's the exact gameplan to go from stagnant biz owner to
Thriving Entrepreneur
"Julie's strategies are far more helpful than a traditional college business class would have been! For the first time in years I feel like I have a purpose and something amazing that I am building.
…and I now actually have a business! From this, I was able to focus on what I'm passionate about and what resonates with my audience. I learned about the paid services I could provide to my audience. I'm so glad I decided to invest in myself"
Founder and CEO of The Life Actually
I Want In!
What's this going to set me back financially?
Have you been reading this page at all?
This program is going to propel you ahead, not back!
It's going to hand you the roadmap to leap ahead in your brand growth by putting a step-by-step strategy in place for your brand that will make multiple 6 figure years your new normal.
Of course, joining the program is an investment (and one with a beautiful guarantee), but the dollars and cents are a fraction of the value it provides.
Plus, I made a decision to make the investment more accessible than other comparable programs because I know firsthand that you need all the help you can get to really make your vision for your brand a reality.
And, I am so confident that if you do this work and implement the guidance of this program, you will grow a profitable brand that is built for exponential growth  – making your investment back a thousand times over!
However, for it to be worth it for you, I also need to know that YOU are invested, all-in, and READY to really make this dream happen.
If you show up for this program, I will show up for you.
If you are 100% all-in, I am 100% all-in for you.
During these 8 weeks, I will show you exactly what to do to elevate your brand into a business that provides you the lifestyle (and life) you really want.
But, are YOU willing and ready to invest in making that happen?
Because you have choices.
You could totally keep at it, binge-listening to podcasts, overthinking all your ideas and not knowing quite where to start, posting content that isn't getting you the results you want  – and still feel like the month-to-month income you see is a yo-yo game—even though your working hours stay at a consistent all-time-high.
Or, you could pull your eggs out of my marketing basket, and move into a content-creation rhythm that gives you a much more sustainable flow to your lifestyle, while fueling a steady income stream to your bank account.
Swipe the very system that I put into play to cultivate a deep trust with my audience, leverage my influence for profit, and know confidently that —no matter what others are doing—that I have a sustainable business that supports my family.
Let's get you there.
What Brand Accelerators are saying…
"The Brand Accelerator experience was life-changing for me. I've accomplished more in 4 weeks than I have in years of trying to do this work on my own."
"Julie was so generous with her knowledge. I was able to 1.5x my revenue. I'm also making strategic decisions and launching new products around what I've learned."
"In just a year from implementing Julie's strategies, my revenue has increased by 55% and it's really due to the change in my core offerings and focusing on the clients I want to reach."
"So many lightbulb moments and golden nuggets to take away from this experience. I looked forward to the weekly calls, learning from Julie and others in the group. Julie is so approachable and offers such pragmatic solutions. It has been so valuable."
"Julie popped the lid off of the box I had been stuck in!!
I came into Julie's world as the owner of a solopreneur business—my program was amazing, sure, but my business was totally stuck at its current growth point, trapped by my own internal fears and limitations.
There's so much "bro-marketing" business programs out there treating clients as if they are just dollar signs, and that's an energy that does NOT work for me. Julie isn't like that.
The thing about Julie is that she cares. Like, actually cares. Working with her was a gift to me not only because of her knowledge and expertise but also because of her heart. It can be hard to find solid business coaching and guidance out there when you are ready to grow your business to the next level.
If you want a guide who is authentic and works her ass off for you, who shows up with honesty and realness and with a genuine passion to see you do well, to better serve your clients, and to better care for your growing business (which naturally includes financial gain), you won't go wrong with Julie."
The Brand Accelerator Money Back Promise
Plus, you've got my word: Your enrollment in The Brand Accelerator is completely risk-free—if you're not happy, I'm not happy. If by Friday October 20th, 2023 you aren't happy, just show me your completed worksheets from The Welcome Module and Modules 1&2 and I'll buy the program back from you, no questions asked!
I wholeheartedly believe in this program, and I know if you dig in and trust the system, you'll see results. The Brand Accelerator is for serious, committed students, but I also want you to feel comfortable making this purchase.
Why am I the one to support you?
Hi friend – Julie here! 
I'm the founder of Pitch It Perfect, The Brand Accelerator, best-selling author of Get What You Want and host of the chart-topping The Influencer Podcast.
I have over 15+ years in marketing, public relations, and personal branding, and my work has been featured in Forbes, Entrepreneur, SUCCESS, Huffington Post, and People Magazine.
With my viral podcast achieving millions of downloads in more than 178 countries, I was recently named as one of the Top 100 leaders in influencer marketing.
So, it's safe to say that I know a thing or two about how to make YOU stand out from the crowd, and make good money doing it!
But, it always wasn't this way for me… even though I could help other people build and monetize their brands, it took me a while to figure out how to do it for myself! 
From hustling hard and making just $400 per month (soul-destroying!), to creating millions of dollars in revenue, I've been where you are now…
Since 2016, I decided to stop the comparison trap, gain clarity around my greater vision and discover what my true brand purpose is…
Since then I've worked with thousands of content creators, entrepreneurs, coaches and influencers, helping them make millions by monetizing their brands and businesses online.
And now, if you want, I'm going to show you exactly how to do the same!
Simply put – I believe your hard work shouldn't go unpaid.
You deserve to be paid for the audience you've worked so hard to bring together, no matter what niche or industry you're in … and now, it's time to hand over the education to YOU!
Want in but STILL not sure if this is the right fit for you?
The Brand Accelerator is 100% created for you, especially if…
You've been creating content for a while, but just feel like you've plateaued your growth and stalled out. You know that even if your content is good, it's not translating into income, and you're ready to learn how to amplify the financial growth that you know you're capable of (and really want)!
You're passionate and creative but get bogged down in the day-to-day of life (and kinda lose that creative mojo) or get overwhelmed by too-many ideas and don't know where to start! You're smart and could probably strategize for someone else but when it comes to your own brand, you're left scratching your head, grabbing a snack, and scrolling instead of creating for yourself.
You're not obsessed with being Insta-famous or just racking up on free hotel trips/swag/perks but definitely want to make a good full-time living doing this. You're more social media strategy than socialite, and very okay with that. Plus, you KNOW beauty samples and YouTube followers don't pay the tab during a girls night on the town. But building a six-figure business without thousands of followers? You're 100% down to see how that works.
You're pro-authentic growth, thumbs down sleazy tactics. You're a smart cookie, and with algorithm changes and new apps popping up these days, you know that true engagement with your followers is what will translate into being able to elevate your brand, create a consistent stress free work schedule and that flow of income you deserve – THAT's what's important to you.
You're ready to see your message really make an impact. You want to put your passion and purpose into words so you know exactly why you whip out your laptop every day. Plus, your goal isn't to be followed by everyone, but to share content that your specific audience really needs—because you know that's how the impact and growth really happens.
You're a hard-worker. Everything is possible with the right combination of belief, strategy, and action. My parents raised me to know the value of a little elbow grease, and that's how The Brand Accelerator works, too.
Is The Brand Accelerator for YOU?
… Some FAQs